Cookeville: 931-372-7676 Crossville: 931-484-0085 Sparta: 931-836-1131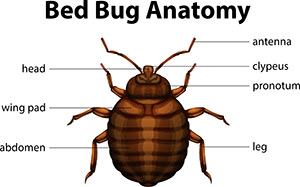 Bed Bugs
These are very hardy insects.They require special treatments and materials. It also takes client preparation to insure a complete treatment can be done. We have an excellent record of eliminating bed bugs. Call us to do a bed bug inspection and treatment options.

Bed Bug Treatment
We will locate and treat the bed bugs, by using a combination of the most advanced products. It may require a follow up treatments to be successful. We can inspect it for you and give an estimate and how many follow up treatments it may require.

Bed Bug Signs:
Small brownish or reddish dots on bed linens or mattresses.
Eggs and molted skins, along trim molding and mattress edges

A "buggy" or sweetish smell
Bed bug bites often result in red, itchy welts. With some people may have no reaction at all.

Where Bed Bugs Hide:
Mattresses, linens, and upholstery
Furniture crevices
Where floors & wood trim meet
In and around electrical boxes & outlets
Behind wallpaper and picture frames